Connecting the dots #81
When two people do the same thing, it's not the same
Despite women representing up to 40% of all athletes, they receive only 10% of the media coverage. One of the reasons is the low viewership of women's sports, which also leads to brands' reluctance to invest in these sports. Can we break out of this vicious circle? The first signs are already visible these days, and you will learn more about them below.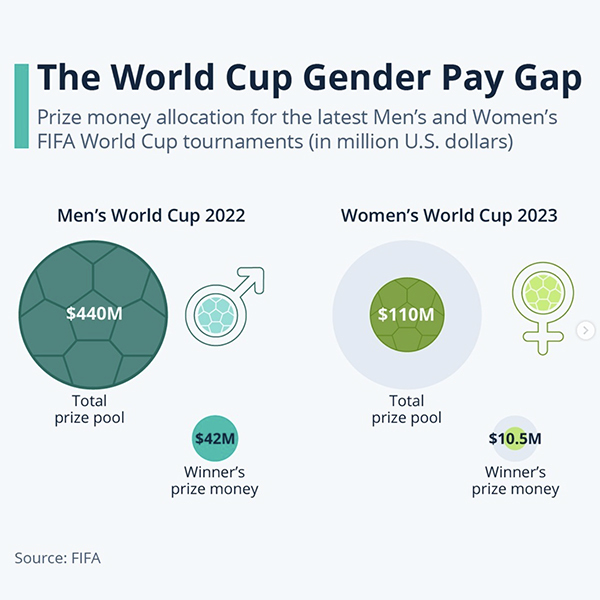 Marketing and media
#1 This year's FIFA Women's World Cup, taking place in Australia and New Zealand, is the most followed event in the history of women's sports. And finally, brands want to be a part of it. Let's take a look.
#2 But to summarise other topics… A new statement on the marketing scene: "Kris Jenner Works Hard, But The Barbie Marketing Team Works Harder." We often talk to you about collaborations and how important they are for brand building. This claim reached an intergalactic level in the movie Barbie, which brands fought over. Airbnb designed a Barbie Dreamhouse, Burger King had a Barbie-themed menu, Forever 21 launched a clothing collection, and Xbox introduced a Barbie-themed console. And that's not mentioning influencers and their invitations and outfits for premieres in every country.
#3 An excellent report and interviews with the creators of this year's Cannes Grand Prix campaigns.
#4 Coca-Cola is convinced that the future lies in music. So much so that they have created their own recording studio. TikTok is also convinced and is launching TikTok Music Beta. You can find out all about it here.
#5 The continuation of the Bud Light fiasco campaign. Everyone is concerned about the brand and its reputation, but what impact did this case have on Dylan Mulvaney?
#6 The latest interview with Rick Rubin is a soothing balm for the soul, filled with inspiration and incredible energy. Listen to it during a long journey on a well-deserved vacation.
Life
#1 PRIME drink is undeniably a hit! And if you haven't heard about it yet, here you'll find everything important and even something extra – a thought-out strategy that has everyone going crazy for the drink – even our creative directors had to try it.
#2 How much does a Michelin star cost per year? Datarun summed up everything you've ever wanted to know about this phenomenon (recommendation from Marek Šulik).
Moreover, if you want Slovakia to be on the gastronomic map, you can find the petition here.
#3 In Portugal, we are already starting a 4-day workweek. Just saying, no pressure. 🙂
#4 The first AI-designed car is out, and Uber Eats will now bring you food with a robot. World, slow down! I can't keep up!
#5 The United Nations has the best data visualisation portal. Top resources for presentations.
#6 What if you could call a psychologist just like Uber? We are not far from it; evidently, digital psychotherapy is a trend for the coming years.
Top podcast for your car: I recently discovered "Brain we are," a podcast about the brain, mind, biohacking, and how we function. For example, in the best episode so far, you'll find out if we have less sex, how Tinder distorts reality, and how many men never get a match.
Enjoy the summer as much as you can!
M.